Timber Bridge Refurbishment or Repair
Have a bridge in need? We offer bridge inspections, bridge repairs, and bridge refurbishments to restore your timber bridge
The goal of our bridge refurbishment services are to extend the service life of your timber bridge, while increasing your return on investment, and keep our landfills free from unnecessary waste. Our team has over 175 years combined professional staff experience in timber bridges & structures. We have thousands of timber vehicular, pedestrian, and golf cart bridges built around the world. We are THE timber bridge company you can trust. Our full-service bridge refurbishment approach maximizes the bridge's level of performance and excellence. Our services include performing recommended timber bridge repairs, providing structural upgrades, and applying York Timber Protective Systems™.
Step 1: Bridge Inspection
---
The first step to a proper bridge refurbishment is a complete bridge inspection. As the leading timber bridge builder, we recommend that any timber bridge be professionally inspected every 2 to 3 years. Inspections are key to properly maintaining a bridge because, they help to monitor the bridge's quality and performance. First, our inspections are performed by an experienced timber bridge professional. Then, we follow up with a report of the inspection. This report can be fully engineered by a consulting engineer in the bridge state upon request. Our report includes all bridge refurbishment recommendations that can extend the bridge service life.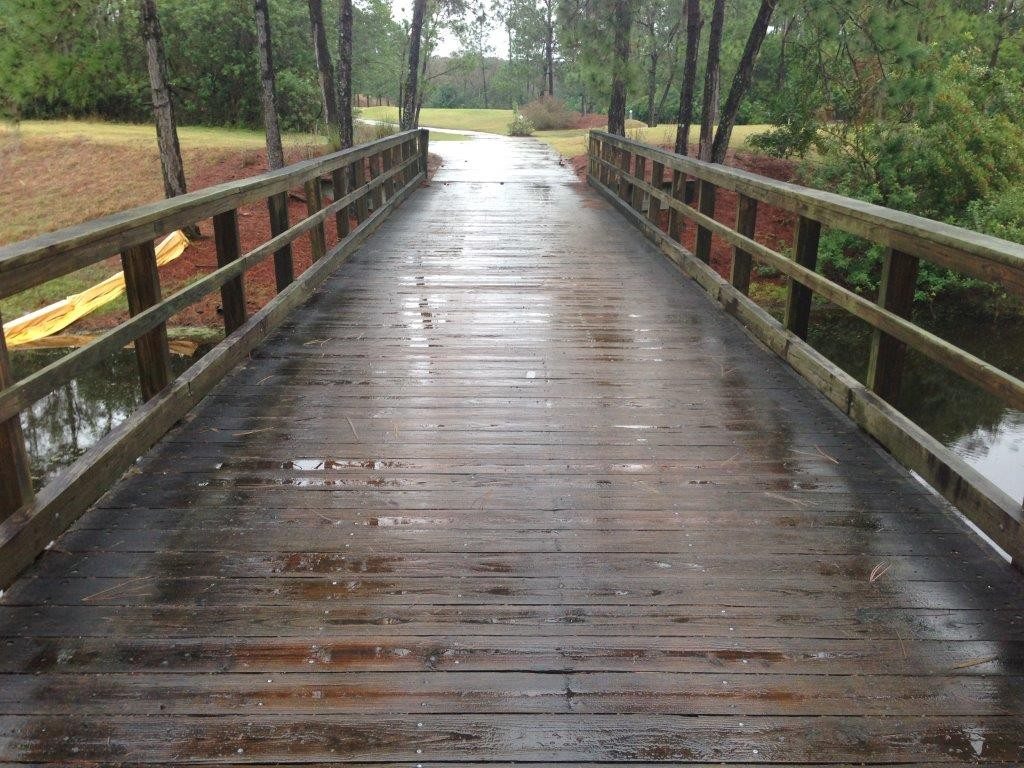 Tranquilo Golf Cart Bridge Before Refurbishment
Step 2: Bridge Design & Construction
---
All bridge refurbishment recommendations and costs are reviewed with the client by our expert construction team. Upon receiving the bridge refurbishment contract our design-build process begins. To design your bridge refurbishment our design-build process starts with evaluating your site values and needs including bridge repairs or structural upgrades.
First, we examine the amenities context, the site, and how you intend to use the bridge(s). Then, we produce a refurbishment design intent customized to these elements and any existing bridge components that will remain. Our bridge designs provide our clients architecturally stunning profiles and fresh color selections, that are then reviewed and fully engineered by a consulting structural engineer in your state. Our bridge refurbishment construction process begins with our professional in-office construction team works to procure the materials, schedule our on-site construction, and coordinate with the client to meet their needs. In scheduling, the construction team coordinates with the client for the optimal refurbishment schedule depending on scope, availability, and climate.
Next, we mobilize one of our expert field teams to your site to construct your bridge refurbishment. Depending on the bridge refurbishment scope of work, a single or double mobilization of our professional on-site YBC field construction and/or finish crews will apply.
As an expert bridge builder, we make sure our bridges are built with precision craftsmanship, advanced problem solving skills, and first-class material selections, in addition to, adhering to strict quality control measures. As a result, we produce unmatched timber bridge refurbishments.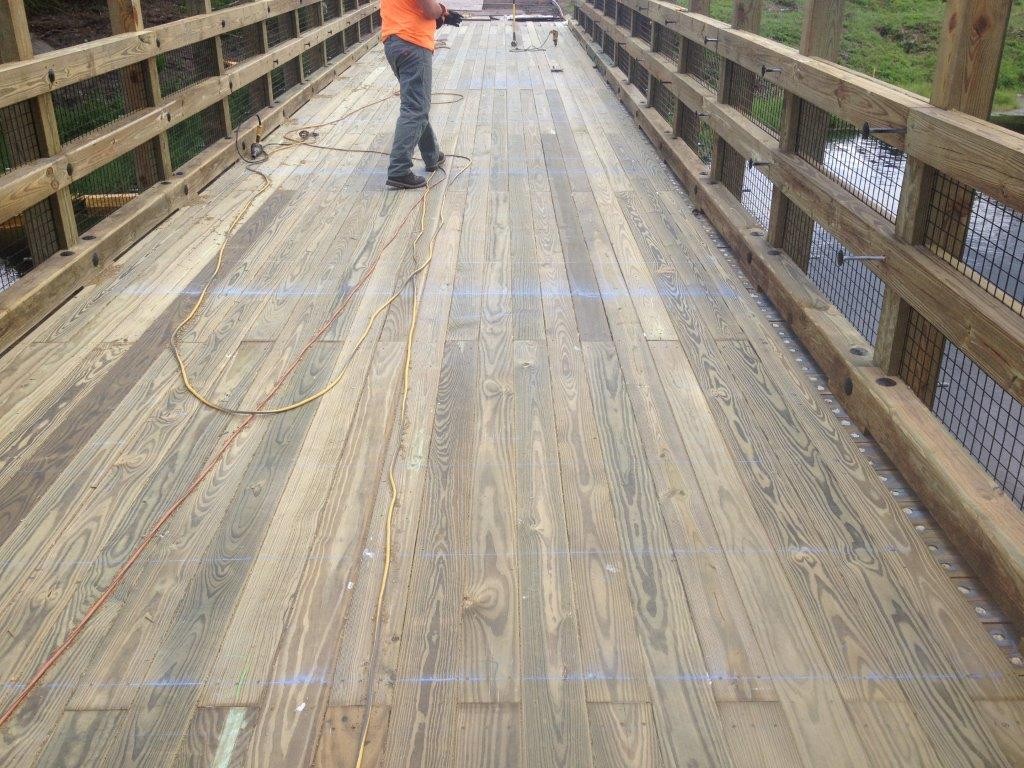 New Decking and Upgraded Guide Rails
Step 3: Bridge Protection & Maintenance
---
We highly recommend our York Timber Protective Systems™ as a vital component to our timber bridge refurbishments to achieve the greatest return on investment. We are the leading bridge builder in protection, because we constantly evolve our services, systems, and applications. Our goal is to maximize their positive effects on bridge life. We utilize specialized field team training to provide a superior application process. Due to this evolutionary strategy, we offer enhanced aesthetics that provide increased climate protection, reduced maintenance demands, and maximized longevity. Our professional field team arrives prepared to walk through all aspects of the bridge refurbishment with you. During our site preparations, all necessary precautions are taken including vehicle roadway or pedestrian access coordination, environmental protective systems, safety measures, and daily site clean-up are implemented. We pride ourselves in a detailed construction and finishing methodology for quality control and assurance.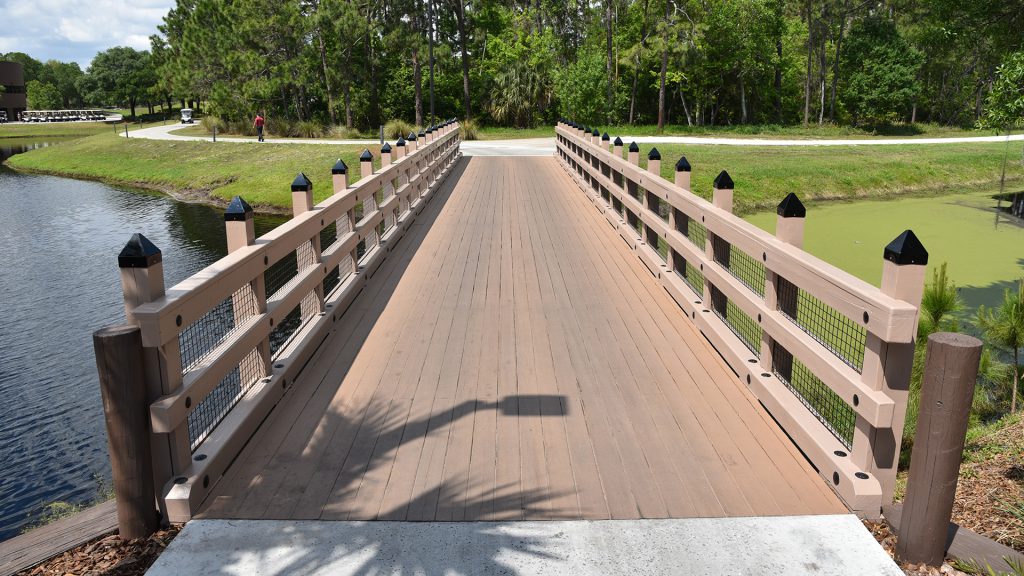 Textured Polymer Coating added to the Decking System and Acrylic/Polymer Coating added to Substructure and Guide Rails
Step 4: After Bridge Renovation
---
After completion of all refurbishment tasks a detailed walk through is performed to ensure your satisfaction with your 'new' York Bridge™. Upon finalizing all contract terms including payment, all clients will receive a York Bridge Express Limited 1 Year Warranty with Owner Maintenance Program that outlines all applicable maintenance expectations that will contribute to a reduced maintenance and increased longevity of the timber bridge service life.
See More Refurbished Bridges
---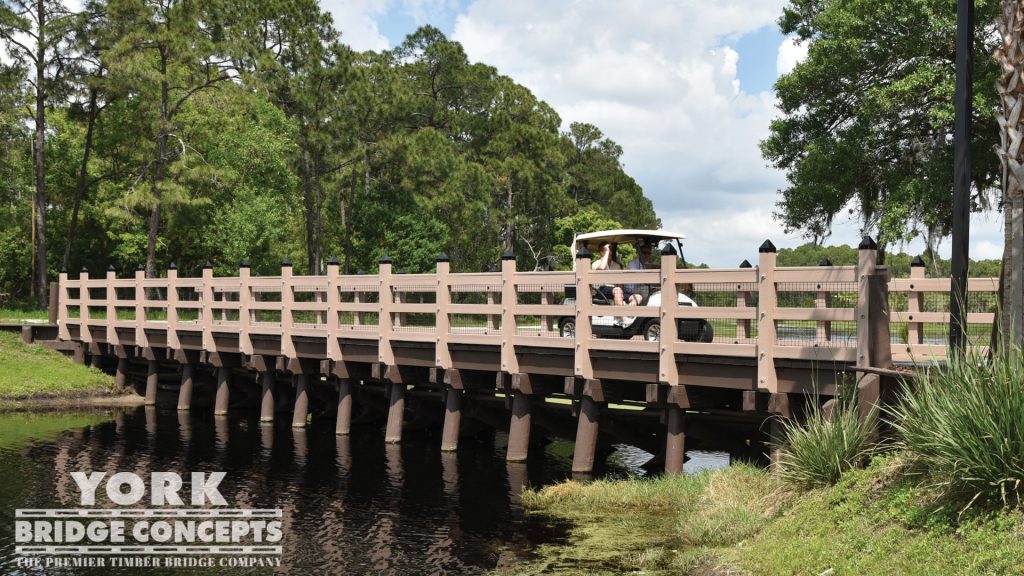 Request a Quote for Refurbishment or Repair
---