The Golf Course Bridge Builder
We custom design and build on-site golf course bridges, as well as, provide inspections & refurbishments
---
For over 30 years, we've been THE Golf Course Bridge Builder with our golf cart bridges built in:
360+ Golf Courses
41 States
4 Countries
---
Professional Design-Build Services for New Bridges
Bridge Design
To design your golf course bridge(s), our design-build process starts with evaluating your course values and needs. First, we examine the amenities context, the site, and how you intend to use the bridge(s). Then, we produce a design intent customized to these elements. Our bridge designs provide our golf course clients architecturally stunning profiles and fresh color selections, that are then fully engineered by a consulting structural engineer in your state. We pride ourselves in going the extra step in design. It is because of this dedication that helps to make us THE premier bridge builder in the industry.
Bridge Construction
Our construction process begins shortly after the design is finalized. First, our professional in-office construction team works to procure the materials, schedule our on-site construction, and coordinate with the golf course to meet their needs. Next, we mobilize one of our expert field teams to your site to construct your golf course bridge(s). As an expert bridge builder, we make sure our bridges are built with precision craftsmanship, advanced problem solving skills, and first-class material selections, in addition to, adhering to strict quality control measures. As a result, we produce complete golf cart bridges including solid substructure foundations and exquisite guide rails.
Bridge Protection & Maintenance
We highly recommend our York Timber Protective SystemTM as a vital component to our York Bridge ServicesTM to achieve the greatest return on investment in your golf course bridge(s). We are the leading bridge builder in protection, because we constantly evolve our services, systems, and applications. Our goal is to maximize their positive effects on bridge life. We utilize specialized field team training to provide a superior application process. Due to this evolutionary strategy, we offer enhanced aesthetics that provide increased climate protection, reduced maintenance demands, and maximized longevity.
York Bridge Services™ for Existing Bridges
Bridge Inspections
As the leading timber bridge builder, we recommend that any timber bridge be professionally inspected every 2 to 3 years. We offer one-time bridge inspections, as well as, custom inspection plans based on a client's needs. Inspections are key to properly maintaining a bridge because, they help to monitor the bridge's quality and performance. First, our inspections are performed by an experienced timber bridge professional. Followed by an engineered report of the inspection. Our report includes all refurbishment recommendations that can extend the bridge's service life. We conduct bridge inspections for new and existing timber golf course bridges. Our goal is to assure each client that their bridge is safe, structurally sound, and receiving proper care. Learn more about our timber bridge inspection service.
Bridge Refurbishment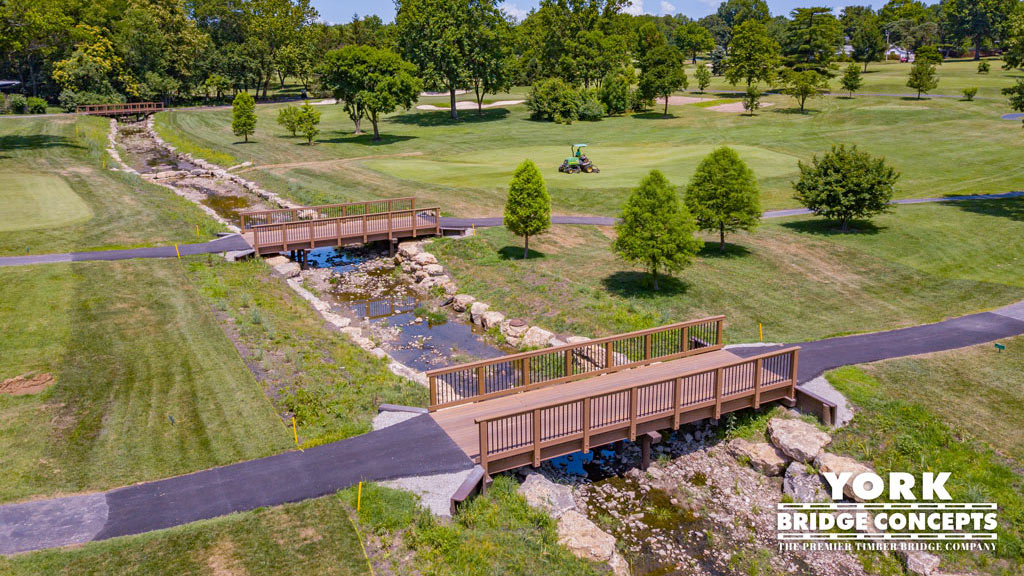 "We learned about YBC through a club member. They have an outstanding reputation and we were impressed with the excellent value presented in the initial sales process, which was ultimately delivered on. The YBC team was very detailed-oriented and efficient. They verified our existing engineering and improved upon it. The follow-up was excellent. We appreciate the design of the four bridges as they blend beautifully with the character of our course and add consistency to the property while reducing maintenance requirements."
---
Jim Kaplan, COO/General Manager
Westborough Country Club - St. Louis, MO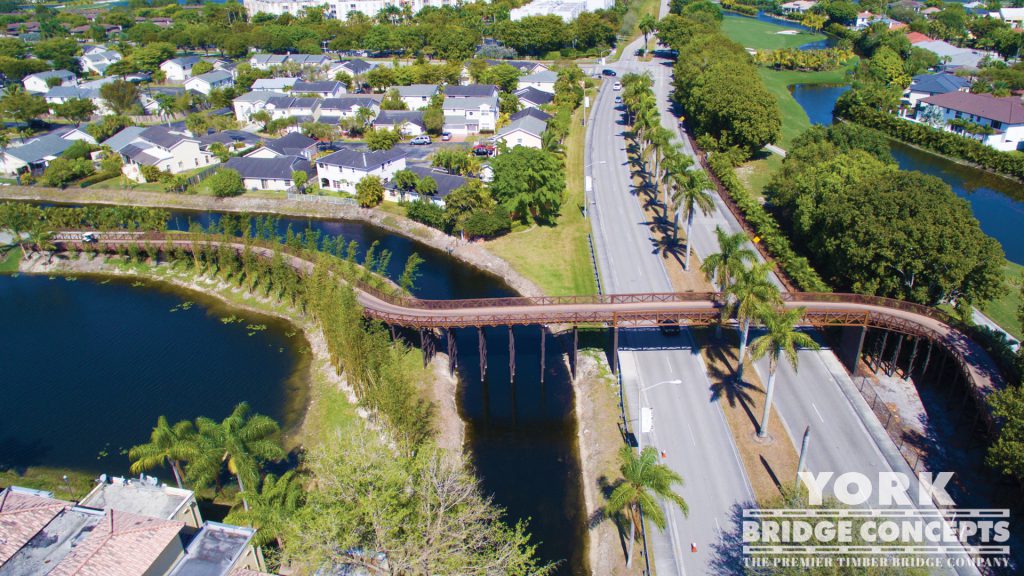 "Part of the investment in restoring Doral Resort and Spa to its former grandeur included design and construction of our very own York Timber Overpass/Golf Cart Bridge, designed from scratch, specifically for one of the most exceptional golf resorts in the world. I can say, beyond the shadow of a doubt, that the 746' of this magnificent winding bridge not only connects the incredible Golden Palm Course to the Silver Fox Course, it does so in style – true to the Trump Family's tradition of exceptional standards."
---
Ed Russo, Superintendent, Trump International Golf Trump Doral Country Club - Miami, FL
"I am always impressed by a company who performs the way they said they would during the sales process. There were no issues prior to the start or during the installation. All submittals, RFIs and other upfront work were completed early and we hit our projected start date without a hitch. Our schedule was fairly tight, but your team still finished a few days early. Communication is always a vital part of any project and York Bridge kept us well informed at every turn. VCD and our client are extremely pleased with the quality of work your provided. The bridges have just recently had the coating put on and they look great."
---
Ken Earley, Sr. Project Manger ValleyCrest Landscape Development TPC Sawgrass Marriott - Ponte Vedra Beach, FL
Inspection / Refurbishment Quote
---